Switzerland's beautiful Lauterbrunnental valley, surrounded by the high peaks of the Alps, from which a total of 72 waterfalls flow, creates a landscape unique in the world.  The largest of these, Staubbach, is 300 meters long and can be seen on the right side of the photo published in our 2023 calendar. In the foreground of this photograph taken in 1895, one can see the steam railroad in Lauterbrunnen, which for centuries was an ordinary Swiss village. The village's real boom came as tourists, writers and painters became increasingly interested in its natural assets. In the 19th century, foreign mountaineers began to flock here in large numbers, treating the valley as a base camp for expeditions to nearby peaks, which necessitated the construction of transportation and hotel infrastructure.  
The 19th century saw the development of rail transportation throughout Europe. The first plans to build a railroad in Lauterbrunnen were made in 1875, but construction work did not begin until 1891 due to funding problems. The first full-length line from Lauterbrunnen to Grindelwald, opened on June 20, 1893 as a summer line.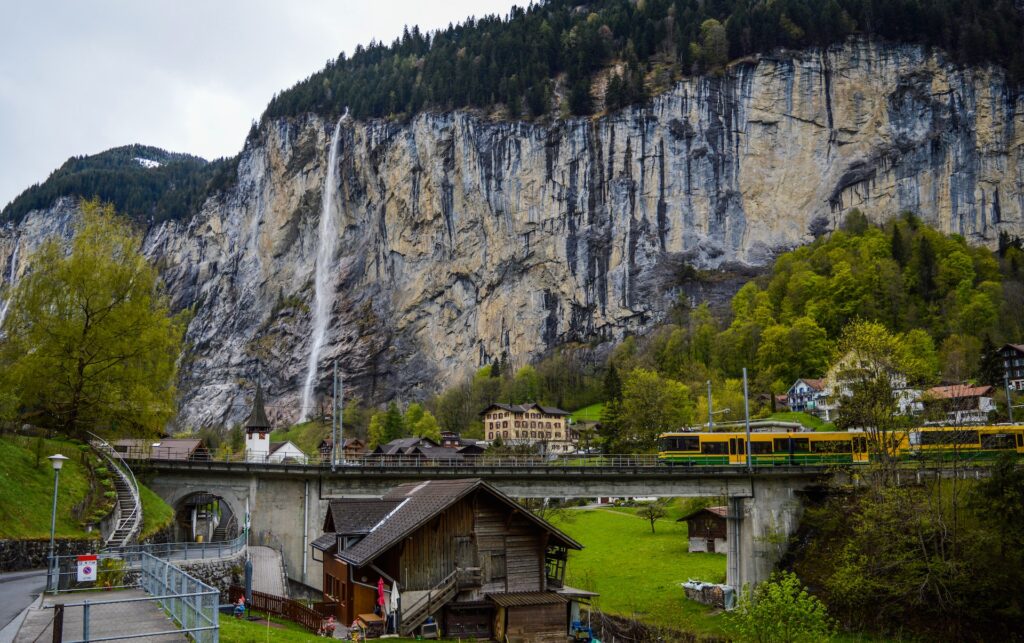 Electrification, the construction of further railroads and cable cars and ski lifts have made the valley and surrounding peaks conveniently accessible to nature lovers, and athletes. Today, the idyllically located Lauterbrunnen train station is a renovated and modern interchange. It serves a 6-kilometer line on the Lauterbrunnen-Mürren route and a 19-kilometer line from Lauterbrunnen to Grindelwald, which crosses the Eiger ridge at the Kleine Scheidegg interchange station. A purposely built triangular turnout here makes it possible, if necessary, to turn the train so that it can also be used on the other side of the pass. Most of the line is single-track, which makes managing track traffic even more difficult.
The railroad in Lauterbrunnen is now 130 years old, and is not only used for transporting people and goods, but is also chosen as a tourist line to enjoy the beautiful peaks of the Swiss Alps from behind the train window in comfort, a little slower than usual.